2004
April 2002 - Company Magazine
"I should be so lucky"

Pop Idol and Popstars finalist Hayley evetts, 26, is determined to follow in the footsteps of her idol, Kylie, and make it big in pop.
"The funniest moment of my last night on pop idol was just after my performance, when Simon Cowell told me he thought I was very sexy, I didn't know what to make of that comment! My
immediate thought was, 'Thats quite flattering.' but a second later later, I thought, 'actually, no, its not - that's just not right!'
When Ant and Dec announced I'd lost, everyone was in tears. I was sad I'd miss out on going to the studio with Darius, Will, Gareth and Zoe the next Saturday, as we were having such a
laugh together.
I did suspect I would be voted off that night. Darius and I had discussed it during the week and each of us had said, 'If its not me this week, it will be me next week.' So when it came to the night itself, I was prepared for it. I gave it my best shot, because I wanted to go out on a high.
I may not have won pop idol but I dont consider myself as a failure. Around 13,000 people auditioned for Pop Idol, and I made it into the last 5 - that's not bad!"
When Will I be famous?
Kylie Minogue was one of my earliest pop idols. I used to dance around my bedroom when I was ten, singing 'I should be so Lucky' into my hairbrush. I've wanted to be a pop star ever
since then, although I didn't start singing properly until much later. I was brought up in Quinton, Birmingham, by my mum Karen who's training to be an optician, and my dad, Malcom, a lorry driver. My younger brother, Steven is 22 and a mechanic. So there isn't any history of performing in my family- although my nan's cousin, Denny Laine, used to be in Wings with Paul McCartney.
I was in the school choir and I loved being in school shows, but becoming a singer was just a childhood dream. I left school at 16, I started work for the Birmingham Health Authority looking after medical records, then I worked in the liver unit looking after transplant patients, which I loved. But even though I wanted to make a career out of nursing I didn't feel really settled.
It wasn't until I was 20 that I discovered I had a talent for singing- some friends and I ended up in a karaoke bar after a boozy birthday meal. The fact I'd had a few glasses of wine definitely helped me pluck up the courage to sing. I had a great time and we started going regularly.
A year later, I decided to leave nursing and got a part-time job at a fancy dress shop. I was still keen to become a singer and would scour the local papers and the stage for adverts for session singers or band auditions. Then, in the summer of 2000, I saw the adverts for the popstars auditions. It sounded like a fantastic opportunity, so I went to the Birmingham heats. I'd never done an audition before, so I didn't know what to expect.
I was fine until I got there and realised I would have to audition in front of all the other potential contestants as well as the 3 judges- Nicki Chapman, Nigel Lythgoe and Paul Adams. But I managed it and sand the SClub 7 song 'Reach for the Stars'. When I watched myself on tv later, I looked petrified! I'm amazed I got through to the London heats. We were in london for 5 days and that's when I met Darius. He got a slating on Popstars which wasn't deserved as he's such a nice guy. But the people I got to know best were Taz and Noel, who, of course, made it into hear'say. I knew Noel would make it- he was just so brilliant.
When I was told I wasn't going to make it into the final five, I was devastated. The judges said I wasn't right for the project. In retrospect, I don't regret it, because I love singing on my own. Anyway, I think I'd have cracked up if I'd got into Hear'say. It must have been hard for them: they had to live in each other's pockets 24 hours a day.
After popstars, I gave up my job and made a charity record for a local cancer hospice. I also did vocals on a dance track called more by the band Mareeko, which is on a cream compliation.
Then last summer, I saw the advert for Pop Idol, and decided to give it a go. When I got to the audition in Manchester, the first person I saw was Nigel Lythgoe. He remembered me from popstars, and was encouraging. I never thought he deserved his 'Nasty Nigel' nickname- UNLIKE Simon Cowell.
I sang 'One for Sorrow' by Steps. The feedback I got from Pete, Foxy and Nicki was great. Pete said I weas the only person from that day's audition who had the right idea about what to wear- I was wearing tight white trousers, a big black belt and a black and silver top.
Then Simon said, 'Will I remember you in 12 hours' time? No I won't you have no sparkle and no charisma.' That was when I started disliking him! But because the other 3 had given me the
thumbs-up, I was through to the next round.
Reaching for the stars
To win my heat and get into the final 50 I sang the Whitney Houston song 'I have Nothing'. I remember thinking, what can I say to Simon Cowell when he's nasty to me? I had a speech prepared!
When you perform you feed off the other people in the room. So, when you smile at Nicki she smiles back. But Simon never gave any reaction during the whole of pop idol, simon never gave any reaction during the performances. He looks blank. I don't know what it takes to excite him. I should have brought a pole in to dance around- maybe I'll do that for pop idol 2! As soon as he said, 'Hayley,' I thought, 'Here we go, stand proud girl'. Then he said 'I'm not going to criticise you, you have what we're looking for.' I couldn't believe it.
Being in the final ten was great. We were all living in a suite in a London Hotel, and we really bonded. We did everything together during the day, and at night, we'd sit in someone's room and chat.The first week, we went out to a pub to have something to eat, and the next day, there was a photo of us in a newspaper under the headline, 'pub idols'. I thought the press attention was hilarious. Most of it was positive, but it did annoy me when one of the tabloid newspapers ran a poll the day of my final show and put me last. There wasn't any need for that and it made everyone uncomfortable.
But the other things that went with the show were great- the place we lived, the voice coaching and travelling around in buses with blacked -out windows. The clothes I wore were fantastic- getting styled and groomed was a dream come true, because I'm clothes and shoes-mad! It was true star treatment. Even though we had to work hard, too, I knew it was the life I wanted.
It was horrible when people had to leave. It hit me hardest when Aaron left because for the first time I realised this was a competition.
The run-up to final night was complete madness- it was like a big reunion in the sudio the last 50 were all there. There was a brilliant atmosphere but you could feel the tension. I
think we all thought, thank god its not us up there!
The final 50 were waiting in the wings before the winner was announced, because we knew we'd be going on to sing with Gareth or Will. None of us had a clue which one of them would win, but I was in tears already. I have to say I always had faith in Mr Young. From the day we met, we gelled. We're all friends, but he's my best buddy. I knew he could do it.
Now its all over, I've decided to stay in London, and my boyfriend, Will, plans to move down here, too. He's been incredibly supportive; even though its the kind of experience that really tests a relationship. Will has kept my feet on the ground.
Although I didn't win Pop Idol, I now know I can go out there and do it. I really want a record deal and I hope it happens soon. But
this has been a fantastic platform. Millions have watched us sing- you cant ask for more than that. The whole experience has made me even more determined to succeed as a singer. I really want to make it big.

26/1/02 HAYLEY WEBCHAT
Have you considered moving to London to pursue your career after doing so well in Pop Idols...?
Yes. I'd like to live in Barnes, I've only ever been through there a couple of times, but it's quite pretty. I think it's nice to live out of the city, because where I live in Birmingham, I live just outside the city.
Have you been offered any record deals since leaving Pop Idol?
Not as yet, there are lots of telly and photo shoots. But it's early days. Lots of magazines and stuff, but they're all sort of being sorted out at the moment. I have done a dance track, I did it last year, and it was a demo, and they've just decided to release it. We'll keep our fingers called. It's called 'More' and it's by Mareeko.
Did you enjoy your time on Pop Idol?
Oh, it was absolutely fantastic; I wouldn't change it for the world. It's been a complete and utter fantastic experience. I know it's tough towards the end, but I would do it all again, because I've learnt so much from it.
Would you have rather won Popstars or Pop Idol?
Um, you know, I don't know. At the time I did Popstars I really wanted to do Popstars. In different ways I would have liked to have won each of them.
What are Ant and Dec really like?
Really genuine guys, and they've really made the show. After the show we sit and have a chat; they make it feel as if they're your friends as well.
Do you think you deserved to win?
I think everyone was as equally as good as everybody else. Obviously you have to say to yourself, yeah I'm going to win it, but obviously it wasn't meant to be for me. I just think it's whoever shines out most to the public; the public has different opinions, and whoever shines the most will win it. And they deserve to win it. They're all my mates.
How would you say that Pop Idol has most changed your life?
Oh, completely. To walk down the street and have famous people say Hello Hayley, it's just unbelievable. And seeing stuff in the newspapers and stuff like that is fantastic; it's totally changed my life for the better. Lovely letters and support from everybody.
What would you change in your experience and why?
I'd change going out! I'd loved to have gone on to win it, just to experience what it's like. I'm going to be boring and say nothing I'd change; I've met fantastic people. You couldn't pay for what we've learned on this show.
Why do you think so many people are fascinated by the show?
I think the pop industry is such a big industry, and for the public to have control over who wins, and to have their say, I think that's why it's been such a big show, because you have a voice. I think that's a big big part of the show.
Do you like to go out clubbing?
Um, I haven't been for a while; I love dancing, so clubbing is the perfect night to go out and have a dance. But the last week, I haven't.
Are any of your friends singers too?
I've got a couple of friends that are on karaoke, and my brother can sing very well as well. He's a very private singer, but he's got a very good voice.
How is your family coping with the press?
They're okay, they know what to read, what to believe and what not to believe, because the press do make up things. But as long as I'm okay with it, then they're okay.
Have any of your friends been weird about you being famous?
Not at all, not at all! They ask for invites when I go to these things. They're all really supportive, really supportive. I see them, and I speak to them on the phone everyday. They'll always be my best friends.
Would you ever do TV presenting?
Um, I'd love to have a go. I'd love to do like SM;tv
Do you worry more about how you look on a day to day basis after being on television?
No, I mean, if I'm not working or not doing anything, I don't put any make up on. I think it's good to give your face some breath, we wear so much make up on the show. There is a difference between how you look on this show and in real life; they cover up your spots and all that. There's not a massive difference, though.
Do you think that the music industry is too focused on image?
No. I didn't start singing until about 4 years ago. I've always wanted to do it, but it was karaoke, I got up for a laugh, and people told me I should do more of it.
Hiya Hayley, is it true you still live in the 'Pop Idol House'?
Um, I have been this week, because I've had lots of TV to do, and they've been very kind and said 'we don't want you to go' so yes I've been with everybody else all week.
I was just wondering what it felt like to be singing in front of millions of people.
I didn't really think about it, I don't think you can; otherwise I'd have been petrified. I just looked at my Mum and Dad in the audience. Every Saturday I had teddy bears, lucky bracelets, lucky charms, everything.
Do you have a favourite song?
One of my ultimate favourites is 'Under the Moon of Love' by Shawaddywaddy.
What's your favourite movie?
Grease, definitely. Because it's the first movie I ever saw when I was little.
Do you use the Internet a lot?
I do spend a lot of time when I'm at home. I've got a website that some girls built for me, so I have a look at that and chat to the girls about that. And I go to the Pop Idol site. I did have some good messages on it before I came in the last ten.
Hayley who do you think honestly will win?
I haven't got a clue! I've just heard the result that Zoe's gone out. I'm so shocked. I'm so stunned that she's gone out. I'm shocked every week. She's absolutely fantastic.
Are the rumours true that you might join Hearsay if Kym leaves?
I haven't been approached, so I don't know. I'd have to think about it if they did approach me, I don't know as yet.
Hi Hayley, do you play an instrument?
No. I used to play flute and piano when I was at school, but I'm very rusty with it haven't done it for years.
Looking back from your first audition do you think you've changed?
Singing wise I think I've become much more confident singing in front of a live audience, so I've definitely changed singing wise. The coaches have helped, I can't explain how much, they're absolutely amazing, and I don't think any of us could have done it without them. I'd definitely continue with that. I'd love to have them as my singing coaches all the time.
Hayley if you didnt want to be a Pop Idol then what would you be?
I'd still be trying to sing, I'd still be doing, as lots of other people do, session work, sending demos to record companies. This is all I've ever wanted to do, so I would not have stopped if I hadn't gone for Pop Idol.
What did Simon whisper in your ear when you were voted out?
I don't know! Everyone said this; he said very well done, be proud of yourself.
Hi Hayley!! Eye just wondered who your influences are musically +, if you were to make an album, what style you think it'll be in!! + also, do you songwrite? Thanx!! You're amazing!!
I like Whitney Houston right to Britney Spears; they've all influenced me in different ways. I'd quite like to do an album like Anastacia, that has ballads and nice dancey tracks. I'd love to have a go at writing.
Would you go on a talent TV show again?
Definitely. Some people think it's a bad thing to do, but it brings in the cream of the crop, and it's a fantastic opportunity.
Hey, I'm a fellow Midlander (From Kidderminster), who or what did you miss from back home while you were in London?
I miss lying in front of my fire, with my pyjamas on. I miss my cat. It's all the home comforts, knowing exactly where you are. The Pop Idol house was homely; we made it our home, it had to be our home while we were here. We had meals together every night; we all took it in turns cooking.
What will you say to comfort tonight's loser?
I know it's the end of one chapter; it's the beginning of another. She's sixteen and she's AMAZING. She will be snapped up. I would just say to her, don't give up. She'll have no worries. Everyone was really cool when I got voted out, I've had such support from the public as well.
I am 8 years old and want to be a pop star, what can I do to help me in the years to come?
Have singing lessons, which I've never had, and get into theatre groups where you get to sing, do production, it gives you so much confidence on stage. I would have loved to have done it when I was younger.
What football team do you support?
Aston Villa. But only because I like the colours of the shirt! Such a girly comment! What was it like meeting loads of cool celebrities?
Oh, it's unbelievable! It's bizarre, you've looked up to these people on telly and stuff, and then they know who you are! I've met Graham Norton, Boy George, H from Steps....Atomic Kitten. It's been fantastic!
Of all the judges whose comments did you value the most?
I think when Pete said I'd turned from a cygnet into a swan, it was so wonderful, so nice to hear. That was definitely the comment that stuck in my head.
Where in the world would you most want to go?
I'd like to go to America. Probably L.A.
Are you jealous of the final four?
Not at all, I'm so proud of them. I was very nervous for them all tonight; they're all my best friends, they really are.
What male did you get along with most on Pop Idol?
I got on with them all. I know Darius, he's an old friend from Popstars. But me and Will would have late night chats with coffee, so we've had the most in-depth conversations with each other.
Who is your all time idol?
Of all time, Elvis Presley. I read a book which makes you think he could actually still be alive; you never know, one day I might meet him!
18/1/02 - 'We thought Hayley had died from TB' - Taken from The Sun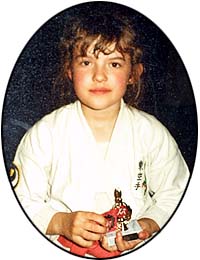 STUNNING Hayley Evetts is on the verge of becoming a singing superstar after beating a killer lung disease.
Hayley was just 14 when she contracted tuberculosis and had to be put in an isolation ward.
She was so ill that her parents feared the worst.
Mum Karen reveals: The doctors thought she had pneumonia at first and they rushed her into hospital. She spent a week in isolation. We were extremely worried.
I used to watch over her and I thought she was dead at one point. I thought shed stopped breathing so I shook her.
Thankfully, I was wrong. She wasnt dead she was only asleep. I was so relieved.
When Hayley finally came out of hospital she had to take drugs for six months and carry an inhaler. She couldnt go into smoky rooms.
Luckily she managed to keep her voice intact.
Hayley, now 25, is part of a proudly close-knit family.
She still lives with her parents Karen, 45, and dad Malcolm, 51, along with brother Steven, 22, at their home in Quinton, Birmingham.
Malcolm says: Hayley always reckoned she wouldnt leave home until she was 30.
Karen adds: Hayley says Im her best mate. Shes a very caring person and she worries to death about me.
When I leave the house she will say things like, Mind how you cross the road. But shes a bit dizzy herself and every time she goes out she will ring up and ask me to check whether she has left her hair straighteners plugged in.
But, of course, she never has. And it shouldnt be forgotten that brother and sister adore each other as well. Not surprisingly, Hayleys 26-year-old boyfriend Will Sinclair they have been seeing each other for about a year has been closely scrutinised by the family.
Malcolm says: Im like the dad in the film Father Of The Bride. I vet all Hayleys boyfriends he seems a nice lad.
Incredibly, Malcolm and Karen did not realise what a wonderful voice their daughter had until she was 22.
Lorry driver Malcolm says: Hayley never sang when she was little. We knew she liked singing at karaoke bars when she was about 19 but had no idea how good she was.
Then we heard her sing at her 22nd birthday party. It was amazing. It made me cry hearing her properly for the first time. Now it makes me cry every time I hear her.
Hayley, who has a purple belt in karate, never talked about wanting to be a singer when she was a youngster.
Her mum, who works as an advisor at a high street opticians, says: Hayley wanted to be a nurse and worked in a hospital medical records department for a while.
One of her best pals had a couple of liver transplants and she was always caring for him.
But Hayley enjoyed music and, as our exclusive pictures show, loved to dress up.
Malcolm says: She was into Bros, New Kids On The Block and also Take That.
But it is a mystery to the family where Hayleys musical talent comes from, although Karens mums second cousin was former Moody Blues and Wings guitarist Denny Laine.
Karen says: My mum and sister can harmonise together. Maybe she got it from them.
Its not just Hayleys voice which has caught the publics attention.
The sexy blonde has also caught the eye by wearing slinky outfits on Pop Idol. On one show she wore no bra or knickers and held herself in place in a revealing catsuit with toupee tape.
But Karen is not worried about her daughter dressing sexily in front of millions of viewers. She says: I think she looks great. Its because she is a woman. She suits being sexy.
Even if you walk through town with her you can see men taking a second look.
Just like fellow wannabe Darius Danesh, Hayley is taking her second crack at telly fame with Pop Idol.
They both appeared together on last year's hit docu-soap Popstars. Hayley was dumped after reaching the final 17 contestants.
Karen reveals: 'Initially she was upset when she didn't get into the Popstars band Hear'say. And she felt even worse when she realised just how big the band was going to be. But we had no problem with her trying again. I think she has a fantastic voice and she really deserves to be on Pop Idol. I would say that at this stage she must be feeling the pressure. But even if she doesn't win Pop Idol she has got to get an offer of a record deal.'

Hayley already has a following of devoted fans who troop down from Birmingham to London every Saturday to see her in the show.
And she has had good feedback from the judges - including Mr Nasty Simon Cowell.
Karen says 'Her fans have set up websites encouraging people to vote for Hayley. They give her reat support and stand outside the studios from nine o'clock in the morning, They are really brilliant but I tell them they should get out of the cold!'

OK Magazine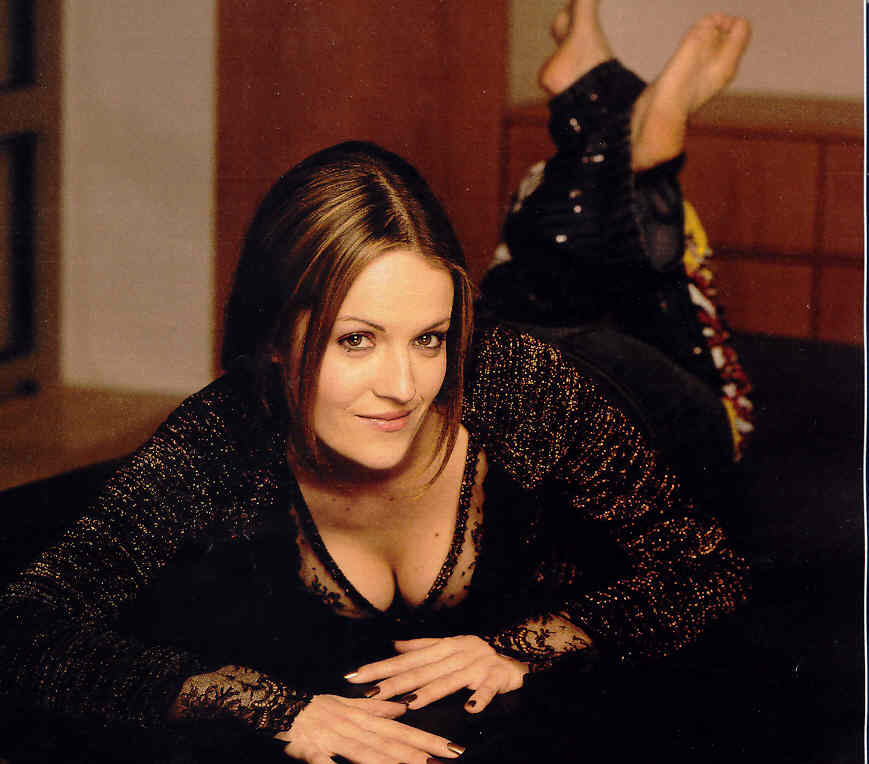 'One contestant who showed outstanding professionalism throughout the day was Cat Deeley lookalike Hayley Evetts. A near veteran of the pop-audition scene, the 25-year-old beauty had a certain advantage over the other contestants, having made the final 15 in 2000's Popstars TV show, which spawned the record-breaking pop group Hear'say. Raising the tempereature during her photoshoot in a revealing black basque and those much-lauded Voyage jeans, Hayley had the crew in stitches when she jokingly gave OK! permission to exclusively cover her wedding, should the big day arise! When questioned about which lucky gentleman would be taking her hand, the cheekie Brummie blurted out: "Why, Simon Cowell, of course!"'
All Hail Hayley
Heavenly Hayley Evetts teams up with Dane Bowers to offer a little Pop Stars: The Rivals Extra on ITV2.
If theres anyone who knows the ups and downs of life as a pop hopeful its Hayley Evetts. Having reached the top twenty on Pop Stars and the final five as a wannabe Pop Idol, Hayley is ideally placed to know what the Pop Stars: The Rivals boys and girls are going through right now. Its this experience that makes Hayley an ideal host for ITV2s Pop Stars: The Rivals Extra.
Hayleys been looking forward to presenting the show, and hopes that shell be able to offer a shoulder to cry on when the going gets tough. "I know what an emotional roller-coaster it is for the contestants", she says, "so, hopefully Ill can offer them a bit of TLC and maybe some helpful advice."
Since appearing on Pop Stars, Hayley has been busy with a number of pop projects, including a successful charity single, a cover of the 60's classic Bobby's Girl, which she sang with bobbies from the Brummie lass local constabulary, the West Midlands Police. Shes also been trying her hand at the TV presenting game, appearing on This Morning and the Brit Awards.
Hayleys very excited about her latest presenting job. "Its great fun, live TV can be nerve wracking but its nothing compared to standing in front of the judges on Pop Idol," she says, "and its so exciting being part of such a major TV event."
Hayley loves working with her co-host Dane Bowers, who like Hayley has swapped singing for presenting. "Dane is hilarious, hes always coming up with ideas like our doing a duet of Especially For You, she says, "I will be sad when the show comes to an end."
While shes clearly loving every minute of Pop Stars: The Rivals Extra, Hayley is still keen to make it as a singer and follow in the footsteps of her own pop idols, who include Whitney Huston and Anastacia. Lets hope the girl from Brum gets her big break, she certainly deserves it for her amazing efforts on Pop Stars and Pop Idol.
Interview from Pop Idol Book
Any advice from mum and dad?
They just told me to enjoy it. "We want you to win, but if you don't we're still really proud of you", which is nice to know.
What was in your school report?
I really loved school, and they were always fine. I wasn't naughty or anything like that. I haven't looked at my reports for years - I left school 10 years ago.
Qualifications
I think I got about 7 or 8 GCSEs but I was really ill when I was 14 and had to have 8 months off school. I went down to 6 and a half stone because I had TB. The school didn't send me any work. I had to drop maths and another language. I was upset 'cos I loved school!
Hobbies
I don;t go to the gym religiously or anything. I'd say I just watch loads and loads of telly! Friends and Buffy.
Have you even wanted to be a plumber?
I have always wanted to be a nurse. I wanted to work in intensive care. I'd be a nurse if I wasn't doing this. Bit different, pop star and nurse, aren't they?
Favourite film?
Grease
Favourite record?
"Under the moon of love" by Showaddywaddy.
First popstar crush?
Matt Goss from Bros. Whoa! I was at home when 'Drop the Boy' came out, eating my tea, saw him on telly and thought, 'He's lurvverly!' It was the quiff.
Do you have a lucky gonk?
I've got a roomfull. The main one is a book on Elvis that I was trying to get hold of for 6 years, which was discontinued. Someone bought it for me from America, so now I carry that round with me all the time. It's called 'Elvis - What Happened?' - It's all about his rise to fame and his fall.
Thing you can't live without?
Hair straighteners. My hair's really curly. It's just frizz.
From The Sun - The Truth about me and Mr Nasty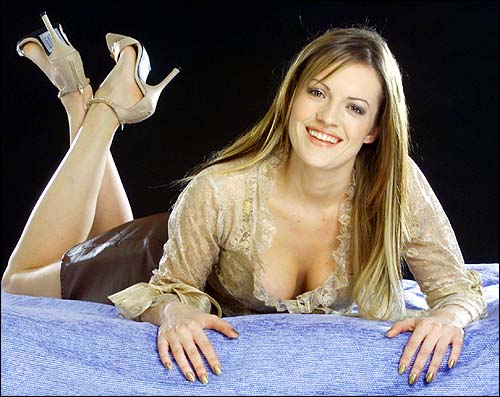 POP Idols Hayley Evetts told last night of her agony at crashing out of the ITV1 show and revealed her true feelings about Mr Nasty judge Simon Cowell.
Hayley, 25, voted off on Saturday, said she wouldn't touch him with a bargepole, adding: He might find me sexy, but I love my boyfriend hes the only one for me.
Petite Hayley said she cringed with embarrassment when the TV Mr Nasty spoke out, stunning her and millions of viewers.
Simon famed for his cruel remarks to wannabe stars made the comment to Hayley in her final show.
But the singer happily dating boyfriend Will Sinclair, 26 said last night: Simons quite a good-looking bloke, but hes not my type I wouldnt touch him with a bargepole.
I couldnt believe it when he said I looked sexy. I could have died. The others just didnt stop teasing me.
I dont think any of us really believed hed said it. I mean, he didnt even comment on my singing!
Hayley, who also appeared in tellys Popstars, feared dad Malcolm may try to beat up Cowell, 42, after the remark.
She said: I thought, Oh no, what will dad think? Hes very protective.
Brummie Hayley, voted off the ITV1 show after becoming one of the final five, revealed she found herself LAUGHING at Cowell, whose vicious remarks reduced other hopefuls to tears.
She said: Im not scared of Simon. I find the image built around him funny.
It does affect you if he says something horrible, but it just made me even more determined to do well.
Besides I couldnt take him seriously after everything I read in the papers about him and those lapdancers!
Cowell hit the headlines last year when it was revealed he had fallen for sexy Georgina Law after she danced naked for him at a lapdancing club.
Despite early criticism, Hayley finally won Cowell over, forcing him to admit: You will be a star.
But she had to choke back tears when hosts Ant and Dec told her she had been voted off the hit TV series leaving rivals Gareth Gates, Will Young, Darius Danesh and Zoe Birkett battling for the Pop Idol crown.
She lost out as more than 2.5million viewers voted in Saturdays show proving right The Suns Pop Idol poll which PREDICTED she would go.
Hayley, a former health worker who has already made two singles, said: I was absolutely stunned it was me. I really couldnt take it in at first.
Earlier in the week I thought it would be me or Darius. But when it happened I still couldnt believe it.
I just remember thinking, Dont cry, Dont cry. I stared hard at Ant and Dec so that the tears wouldnt start, but my eyes were welling up.
I cant believe Im not going to be back there with all the others next week thats whats so sad. But I will be in the audience cheering them on.
Hayley believes 17-year-old hunk Gareth will eventually win the show just as The Suns poll forecast after thousands of readers rang to vote.
She said: I think Gareth will win. Hes got so many female fans. Hes a real heart-throb, the type of stud you see on posters on girls bedroom walls
Hes going to be a huge star. He does that cheeky little smile and I think the girls go weak at the knees.
But Hayley added: I think if I was a viewer, I would vote for Will because I love the way he sings.
Hes got such an unusual voice and I know Id buy his album.
Hayley gave the performance of her life on Saturday when she sang the big band classic That Ole Devil Called Love.
But it wasnt enough to save her.
Judge Nicki Chapman broke down in tears and hugged Hayley after she was voted off, saying: I cant believe youre out you were fantastic.
Steps singer H, real name Ian Watkins, left a phone message telling her: You were brilliant and I cant believe youre going. Dont give up.
Hayley became so close to Gareth, Will, 23, Darius, 21, and 16-year-old Zoe that she plans to carry on living with them in their London hotel suite.
The blonde singer says she plans never to say goodbye to her new-found friends and believes they will all be mates for life. She said: I didnt say goodbye after the show and I dont think I ever will. We all went out afterwards as it was Wills birthday and had a really great night.
We are just the best of friends now and thats why its really hard for people to be going out each week.
Zoe was devastated it was me who went out. She was in floods of tears. They all said they didnt want me to go so Ill stay with them a bit longer.
Hayley says life after Pop Idol fame will never be the same again.
She said: While I was on the show I nipped out every day to buy The Sun. I was thrilled last week to see a picture of us at a film premiere. The fans all cheered us, it was amazing.
The show has changed my life. I now know that theres only one thing I want to do and thats to sing.
Boyfriend Will made regular trips to London to cheer Hayley on. She said: Hes been there for me all the way.

From The Sun again - Hayley's stressed parents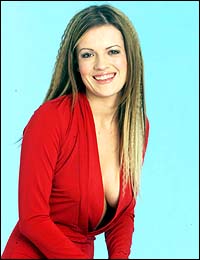 POP Idols Hayley Evetts delighted millions of viewers with her stunning performance on Saturdays show.
But while she basked in the limelight, her parents Karen and Malcolm were reduced to nervous wrecks by the nail-biting tension.
Hayley, 25, said later: My dads blood pressure has gone through the roof with the stress of watching me on Pop Idol every week.
He cries every time I sing and he cant bear to watch when it comes round to the results time.
My mum has lost loads of weight with it all. She looks much thinner. I think its harder for them than it is for me because they worry so much.
Hayleys amazing performance of the Billie Holiday classic That Ole Devil Called Love was not enough to see her through to the next round of the ITV1 talent contest.
But last night she told how being on the programme has changed her life for ever.
And she said taking part has made her realise the only thing she wants to do for the rest of her life is sing.
Brummie Hayley, a contender in last years Popstars, said: Pop Idol has convinced me there is nothing else I want to do.
Theres no way Ill be going back to work in Birmingham.
On Popstars I had a small taste of what it could be like but this has just been too much of a taste for me to give it up.
It really has changed my life. Im going to keep pushing myself and hopefully, in the end, Ill get there.
Hayley was among the final 17 contenders in Popstars but eventually she was ditched, along with fellow Pop Idol contender Darius Danesh.
But she believes the tips she picked up from the programme were invaluable and helped her make the final five in Pop Idol.
She said: When I auditioned for Popstars I didnt really have a clue because Id never sung at an audition before. My only experience was singing karaoke for drunk people in pubs.
I learned so much from Popstars about how you need to hold yourself in front of the cameras.
Even if youre nervous they tell you you mustnt shy away, you have to push yourself.
The auditions for Pop Idol were not as terrifying as for Popstars, partly because Id been through it before, and also because you didnt have to sing in front of all the other contestants.
With Popstars you had to sing in front of the others and it made you really nervous if the person before you was brilliant. With Pop Idol it wasnt as bad because you were just in front of the judges.
Hayley grew up with her brother Stephen in Quinton on the outskirts of Birmingham. She left school at 16 and worked in the medical records department at Birmingham Health Authority.
She said: At first I was very happy working there and I thought thats what Id do for the rest of my life.
Id always wanted to be a nurse and that seemed like a good route into it.
But Hayley eventually gave up on the idea of going into nursing and took a job in a fancy dress shop.
She only discovered she could sing four years ago, during a night out at a karaoke club in Birmingham.
She went to The Travellers Rest bar in the Blackheath area of the city for a friends birthday and found herself up on stage.
Hayley sang Sandie Shaws Puppet On A String and brought the house down.
She said: Wed had a bit to drink and it was my first time singing in public.
I dont know why I chose that song but when I came off stage everyone was cheering and clapping and saying how good I was.
All my friends and the people in the bar said I should do it more often and that got me thinking about it.
Hayley started to sing more and more in karaoke bars.
Her parents Malcolm is a lorry driver and Karen works in an opticians eventually went to hear her sing on her 22nd birthday.
Hayley recalled: It was the first time theyd ever heard me sing properly and they both cried.
Another of Hayleys big fans is her 26-year-old boyfriend Will Sinclair.
He has travelled to London from Birmingham every week to see her sing on Pop Idol.
She said: Hes not working at the moment, which has meant he has been able to come every week to support me, which has been fantastic.
He stayed over with me at the beginning during the first rounds of auditions and that was a great help. Hes really looked after me.
Hed never seen me perform to an audience or a camera so I think he was a bit shocked at how glam I looked in front of the cameras.
But most of all he knows its what I really want to do with my life now and hes very supportive.
Hayley added: Im going to try and move down to London because thats where Im more likely to get a break. I think if I go back home to Birmingham I might just slip back into the old routine thats not what I want.
I dont think there are really many opportunities for me in Birmingham.
Hopefully someone will make me an offer. I really want to be a pop star.
If that didnt happen Id like to have a go at musicals.
Hayley believes she is well prepared for the pressures of fame, should she land a record deal.
She said: I love the idea of being famous. Ive enjoyed what little bit Ive experienced so far. When I came out of a club the other day all these photographers were shouting my name and taking pictures. Thats when I thought, Oh my god, this is weird. But I loved it. It was great.
Pop Idol Interview
What sort of reaction did you get after you won the last round?
It's been really positive. I've been on local radio and interviewed by the local papers. I even switched on the Christmas lights in a local town.

Your worst Pop Idol moment?
When some of the friends I'd made at the Criterion were knocked out. It was terrible because they were so upset.

Which contestants have you stayed friends with?
I've kept in touch with David Wilson - we met when we were both on PopStars. I've also heard from Chris Tame and Kerry Pitt. They've both been very supportive.

Which contestant do you fancy the most?
None of the contestants. I really fancy Shane from Westlife. He's lovely.

Which of the judges would you most want to throw a custard pie at?
I'd like to line them all up - except for Nicki Chapman. I'd give Foxy an extra pie as he wasn't there for my heat.

Describe your perfect weekend:
Shopping in New York. I've never been to America and I'd love to go.

Have you ever had a disastrous date?
One guy invited me out for dinner and after we'd eaten I realised he expected me to pay - for both of us. He wasn't working and just assumed that I'd pay.

Best date?
My boyfriend Will has just organised the perfect weekend. He organised a house in Cornwall for just the two of us for the weekend, so I could relax before Pop Idol started again. It was wonderful, we went for long walks and drank nice wine.

What book are you reading?
I'm halfway through the first Harry Potter book. I've seen the film which was brilliant.

What's your favourite TV show?
Friends and SM:tv before Ant and Dec left.

Describe the best day of your life:
Singing at a massive charity dinner to raise money for cancer research in Birmingham. There were hundreds of tables and everyone got up to dance when I was singing.

The worst day of your life?
When I was knocked out of PopStars. I got through to the final 17. I cried for days afterwards.

Pop Idol Questions:

Who is your pop idol?
Madonna.

What's your star sign?
Pisces.

What would you like most about being a pop idol?
I'd love the lifestyle, especially being on TV and being pampered - having my hair and make-up done.

Have you got a partner?
Yes, he's called Will, he's 26 and he's not working at the moment. We've been together a year and he supports me 100%.

Tell us a secret about yourself:
I used to have a crush on Dec when he was in Byker Grove!

Have you ever met anyone famous:
I did a charity record in Birmingham and Joe
Pasquale sang on it as well. He was great - really, really funny.

Which three words best describe you:
Ambitious, funny and dizzy.

Name three of your likes:
Shoes, the TV show Friends and David Boreanaz who plays Angel in Buffy.

Name three of your dislikes:
Piccallili - it's foul, spitting and bellbottom trousers