2004
03/01/04 - Hayley to do more shows??
Hayley suggested today that she may be doing a couple more shows of Grease after the musical leaves Manchester on January 17th but is not touring with them. We'll keep you posted if we find out any information.
03/01/04 - Single News
Hayley today said she has a single out in MARCH of this year! The song is of the style of Sheryl Crow and is fab - keep your eyes peeled for news!
2/1/04 - Ok! Magazine
Hayley and Jessica are in OK! Magazine this week being interviewed from their new flat in London. Check out the interviews page for more details
2003
28/12/03 - Grease is the one that you want
Grease has been named the nation's favourite musical. The 1978 movie, starring Olivia Newton-John and John Travolta topped a Channel 4 poll of the 100 Greatest Musicals. Hayley was featured on the show as was her co-star Jonathan Wilkes.
19/12/03 - Grease reviews
1) Aidan O'Rourke
An eye-popping, ear-charming, foot-tapping, jaw-dropping musical celebration of 1950's Americana, with electrifying vocal performances, amazing choreography, visually stunning stage sets and a fabulous live band. A must-see attraction - I must see it again! The show tours the UK during 2004. See
www.greasethemusical.co.uk
2)Philip Radcliffe
4 stars out of 5
IRREPRESSIBLE and irresistible, Grease breezes in again - and recaptures its universal appeal. It's been doing the rounds now for more than 30 years - and it still delights the oldies while wowing the teenagers of today.
Whatever they make of the oh-so-dated doings of those American college kids from Rydell High, with their jiving, cheerleading and drive-in cinema-going, they love it. They were clapping and screaming last night before it even started.
This glitzy, colourful production, crisply directed by David Gilmore, is full of zip, with energetic, disciplined dancing that has a real joie de vivre.
Staged within a red neon frame, with the band on an upper deck, the defining sets - high school, dorm, bleachers and soda bar - appear effortlessly. And there's a glittering, angel-filled heaven for the Beauty School Dropout showpiece.
For all the ensemble excellence, the focus is on Danny and Sandy, played here by 25-year-old Jonathan Wilkes and Pop Idol's Hayley Evetts, making her professional theatre debut.
He has the looks, voice and self-aware swagger for the part - and what she lacks in stage presence, she more than makes up for with her voice, as in Hopelessly Devoted To You.
They are surrounded with a talented, spring-heeled team. I particularly liked Mary Doherty's feisty Rizzo, Victoria Hinde's dazzling Cha Cha and Graham Tudor's guitar-busting Doody, but this is essentially an ensemble success. And there's lots of fun.
It just goes to show that Summer Nights are not out of place even at Christmas.
17/12/03 - Grease
Hayley has just started her run as Sandy in the hit musical Grease in the Palace Theatre, Manchester. For tickets go to
www.ticketmaster.co.uk
. Her run ends on January 17th so be quick!
19/11/03 - Ticket Sales Soar for Grease by Helen Tither
LOOKS like Grease is going to be the word in Manchester this Christmas.
The M.E.N. has learnt that ticket sales for the hit West End musical have already soared past the £1million mark, with a month to go before the opening night.
And it seems there is no stopping the Greasemania, with theatre bosses deciding to extend the show starring Jonathan Wilkes and Hayley Evetts for an extra week due to popular demand. Opening on December 17, the show will now run for eight extra performances until January 17. The additional 16,000 tickets will be available from Friday.
General manager of the show Max Finbow says the West End musical - which opens its national tour in Manchester - just keeps getting bigger.
"It's fantastic - Grease has been to Manchester three or four times before but I think this is the one that they want," he tells the M.E.N.
"I think we are heading for a sell out run - our sales in Manchester have been phenomenal."

Greasemania

Of course, it could be that the appeal of the recent hit TV show Greasemania has helped to boost sales.
However, Max insists that he has got the real stars in his stage version, even chancing a little dig at Greasemania star Gareth Gates.
"Both Hayley and Jonathan are extremely talented. Jonathan has been touring in Rocky Horror Show this year but he also presents You've Been Framed on prime-time TV.
"And Hayley is known for coming up narrowly behind Gareth and Will on Pop Idol. Some people think she was the best, and vocally she's absolutely sublime."
Rehearsals for the show start next week.
13/11/03 - Hayley posted on Group
See message #7357
02/09/03 - Hayley posted on Group
See message #7052
30/05/03 - Hayley posted on Group
See message #6190
15/03/03 - Hayley on And and Dec's 'Saturday Night Takeaway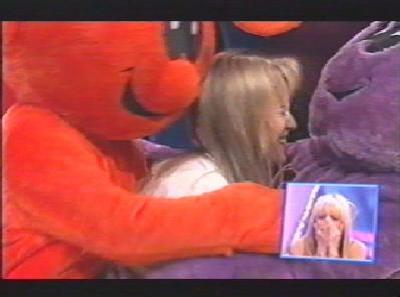 Hayley thought she was filming for a new kids tv show - 'The Ploppies' (who were really Ant and Dec in disguise), and had to hold a cat (shes allergic to them) and a pig and get cake thrown at her. She handled it well, much better than Caprice who really got into it last week, so wasn't quite as embarrassed when Ant and Dec revealed their identities (see pic below)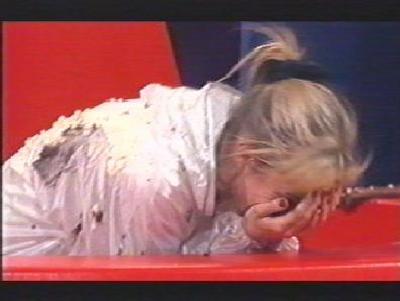 10/04/03 - Ok! Magazine
Hayley is in this week's OK! Magazine from LA with new man Jeremy Jackson from Baywatch
30/01/03 - Hayley posted on Yahoo Group
See message #5303
2002
27/09/02 - Hayley posted a message on the Yahoo Group
See message #3841
July 2002 - HAYLEY TO PERFORM AT PARTY IN THE PARK
Hayley has been confirmed to perform at BRMB's Party in the Park along with Will Young, Blue, Sugababes and many more! It is on July 6th at Birmingham City Football Stadium so book your tickets now!!
Tickets are priced at £12.50 each - call 0871 220 6964 NOW!!!
Update: Hayley performed 'One Day in Your Life' and was absolutely fab! Still no record deal, but is currently doing screen tests for various presenting jobs.
ARE HAYLEY AND GARETH AN ITEM?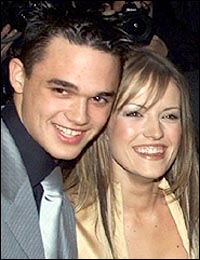 POP Idol pin-up Gareth Gates is in love with ex-rival Hayley Evetts even though his managers have BANNED him from having a girlfriend. An eyewitness told last night how he saw Gareth, 17, and sexy Hayley, 25, "all over each other" in a posh London bar. He overheard Gareth telling Hayley: "I love you, but Ive been told I cant have a girlfriend for five years." A source close to the pair confirmed the relationship, saying: "Theyre mad about each other but have gone to great lengths to keep it quiet. Pop Idol bosses will deny theyre an item but make no mistake they are a couple. Its just very cloak-and-dagger."
The couple fell for each other as they battled it out in the final stages of the ITV1 search-for-a-star show. But romance only blossomed once they were on the road together for the sell-out Pop Idol UK tour. They have since made numerous late night phone calls and constantly exchanged saucy text messages. Bosses like Pop Idols Mr Nasty Simon Cowell fear Gareths record sales will suffer if young female fans think he is unavailable. Gareth, the Pop Idol runner-up, was seen with Hayley in the Grosvenor Hotels Red Bar after performing in nearby Covent Garden, Central London.
The onlooker told The Sun: "Gareth and Hayley were at a discreet sofa to the side. They seemed keen not to be spotted by a crowd. They were whispering into each others ears and giggling like a couple of kids. She was stroking his chest, and he was tenderly stroking her head. They seemed besotted with each other. At one point, I heard him say, I love you, but Ive been told I cant have a girlfriend for five years. "
Hayley first revealed she had a soft spot for Gareth after being voted off Pop Idol in January. The former medical worker predicted Gareth would win the contest, adding: "Gareth is a lovely person. Hes gorgeous, a real stud. Hes going to be a huge star. He does that cheeky little smile and I think the girls go weak at the knees. Hes a real heartthrob, the type you see on girls bedroom walls." Hayley, from Birmingham, has since ended her relationship with local lad Will Sinclair, 26. Bradford-born Gareth had been linked with fellow finalist Zoe Birkett, 16, during Pop Idol.
Pop managers denying their stars relationships is nothing new. Take That were ordered to tell all interviewers they were single, and Westlifes Bryan McFadden had to deny he was dating Atomic Kitten star Kerry Katona amid fears that his bands female fans would desert them.
Update: Will has been asked about this question in Heat magazine and said 'When I last saw Hayley we didn't even talk about it. I didnt ask her because I didn't need to. I didn't think it was true and I haven't really thought about it. I see them more as brother and sister-type people.'
However, in this week's Heat magazine in the 'spotted' section, it says Hayley and Gareth were seen out together in Kensington and also a source we know close to the pair confirmed it was true as soon as the stories were first printed, saying they got very close on the tour.
Further Update: Hayley was recently talking about her alleged 'relationship' with Gareth. She said: 'As I walk down the street now I have 'bitch' shouted at me. Nothing is going on between us, we are just really good friends - I am so not going out with him, OK?'
And again: Hayley has since admitted "yes, we were going out"
08/05/02
Pop Idol The Big Band Album is on sale this week with Hayley and Zoe on promotion so look out for them on TV all this week! The tracklisting is as follows:
1) Will - Beyond the Sea, 2) Zoe - Get Happy, 3) Darius - Let There Be Love, 4) Gareth - Mack the Knife, 5) Jessica - Ev'ry Time We Say Goodbye, 6) Aaron - I Get a Kick Out Of You, 7) Zoe - I've Got You Under My Skin, 8) Hayley - That Ole Devil Called Love, 9) Will - I Won't Dance, 10) Korben - Night and Day, 11) Rosie - Cheek to Cheek, 12) Laura - They Can't Take That Away, 13) Gareth and Zoe - Look At Me Now
Hayley and Other Celebrities
''The other day, Kylie Minogue came up to me and said: 'Oooh, hello, you. How you doing?' I was completely gobsmacked!!''
''Anastacia was lovely''
''Mark Owen of Take That came backstage at the Manchester gig and I just lost it. This was the man I wanted to marry when he was in Take That and there he was telling us how much he enjoyed our stuff. I had to stop for breath!''
HAYLEY WEBCHAT

After Saturday's results show, Hayley did a webchat. If you missed it, dont worry! We've copied it into our 'Interviews' page so just click on the link below!
HAYLEY AND ZOE STAY IN LONDON

Instead of going back home, Zoe Birkett will stay in the Pop Idol luxury flat this week to support her pals and she won't be the only girl because Hayley has stayed in London too.
"I've been in the flat ever since I was voted off," says Hayley. "It's weird being there when you're not taking part in the show, but I've enjoyed myself. I'm not ready to go home yet and I want to be around for Zoe because I know exactly how she feels."
Hayley watched the show on Saturday, but refused to sit in the studio audience. "It would have been too painful," she says. "I don't think I could have stopped myself from shouting out when the judges made nasty comments and said they thought Zoe would go."
18/01/02 - "We thought Hayley Was Dead" from The Sun
The parents of Pop Idol hopeful Hayley Evetts say she nearly died from a lung disease nine years ago.
She contracted tuberculosis and had to be put in an isolation ward when she was 14.
Hayley is one of the five remaining contestants on the ITV show.
Her mum Karen Evetts says Hayley is lucky to still have her singing voice after the illness.
She told the Sun: "The doctors thought she had pneumonia at first and they rushed her into hospital. She spent a week in isolation. We were extremely worried.
"I used to watch over her and I thought she was dead at one point. I thought she'd stopped breathing so I shook her. Thankfully, I was wrong. She wasn't dead - she was only asleep. I was so relieved.
"When Hayley finally came out of hospital she had to take drugs for six months and carry an inhaler. She couldn't go into smoky rooms. Luckily she managed to keep her voice intact."
Hayley Evetts is still upbeat about carving out a career in the pop industry - despite losing out a second time in a bid for stardom.
The 26-year-old from Birmingham has already appeared in ITV's Pop Idol's forerunner Popstars.
But Hayley is no stranger to the music industry, having featured previously on two singles.
The first, a single called More, has just been released by Cream Records. She has also appeared on a charity single for a Birmingham hospice.
But of the moment she was voted out in last night's show, Hayley said: "It just went really silent. I cried when they showed the montage at the end and there was sobbing from Zoe and Will. We just gave each other a hug."
Despite high praise from all the judges following her rendition of That Ol' Devil Called Love, they correctly predicted her departure.
Judge Simon Cowell's comment that she had been had been "so sexy" had left her "speechless", not least because her father was in the audience and some of the production team made jokes about it.
She added: "I did not know what to say, I was quite speechless."
Hayley also told of the contestants' shock when a row erupted between Cowell and another of the judges, Pete Waterman. Waterman angrily criticised Cowell's disparaging comments to Darius Danesh, suggesting he wasn't hearing right.
Hayley said: "We were sat there looking at each other. I think we were a bit shocked. I said: 'Oh my God."'

Everyone knew it was going to be a tough week as the final five had already proved that they're great performers. But despite her considerable talent, Hayley Evetts was voted off the show.
'I tried really hard not to break down,' said Birmingham girl Hayley, 25. 'At this stage, I think we all sat there and thought, "It might be me!" When I heard it was me, the last five months just flashed before my eyes. My first thought was that The Sun poll was right!'
Fighting back the tears, Hayley vowed to continue her dream of becoming a successful pop star. 'I'm not going away,' she said in the green room after the show. 'I don't want to go back home yet. Maybe I could become housemaid to the final four? I'll do all the cooking and cleaning! I'm not ready to give up my dream just yet.'

DON'T EVEN THINK ABOUT IT HAYLEY!!!!! UR GONNA BE SUCH A STAR!!
Hayley Tries To Pile On Pounds

While most of us are vowing to lose weight in the new year, Hayley Evetts is battling to put it on after losing around half a stone over Christmas.
Hayley lost the weight after suffering from an allergy to seafood which left her unable to eat a thing for almost a week.
'I was really ill and the weight fell off,' she says. 'Everybody keeps telling me I'm too thin now and I agree. I do need to put a bit on, so I am eating plenty, taking a tonic and drinking one of those build-yourself-up formulas.'
'Until I was 22, I was really skinny, but I went on to develop a curvier figure which I really liked. Now, I'm anxious to get it back. It's not easy when you are doing this show as the adrenaline takes away your appetite.'

News taken from Pop Idol website
Hayley's made it to the final 6 after a 'sensational' performance of 'Show me Heaven' on Saturday. It was absolutely superb - well done Hayley!!!!!
Hayley was stopped by the police on New Year's Eve as she was 'walking merrily down the street'. The policeman inside the car wound down his window and said 'excuse me', and Hayley thought 'OMG what have I done??' so said 'yes?' and he said 'Good luck on Saturday!' awwww bless the policeman!!!
Popstar joins Copstars' singing detectives

Popstars finalist Hayley Evetts has teamed up with West Midlands Police for a charity single.
Sales of the Copstars' version of Bobby's Girl will raise funds for a Birmingham hospice.
Michael Barrymore was also due to star on the disc, but was unable to appear due to illness.
The group previewed the single on the rooftop of Police Headquarters in Birmingham today.
Sergeant Simon Cook, special constable Tim Bushell, detective constable Doug Hurren and information assistant Darren Yates provide the backing vocals for Birmingham-based Hayley.
Organiser Darren Yates said: "We are upset Michael Barrymore is not well enough to help with this charity single, but we hope he makes a speedy recovery."
He added: "If the Beatles can perform on the top of the Apple Studios in London as their final live performance, we will perform on top of the Police Headquarters as our first live performance."


Hayley Not Earning a Penny from Dance Track

Despite claims that she's 'raking in the cash', Hayley Evetts isn't earning a penny out of the recently released dance track, More, that she recorded last year. Hayley, 25, was asked to sing with the group Mareeko after reaching the final 17 of Popstars.
'I did that job as a session singer and was only paid 150,' said Hayley. 'People think you sing on a record and suddenly earn loads of money, but it doesn't work like that. I loved singing with the band but I'm not making money from it.'
Talented Hayley, who was praised by the judges last week, is bound to get a recording deal even if she doesn't win the contest. 'I'm not in a hurry to accept any deal that's offered,' she said. 'I don't just want to release three singles and then disappear. I want to be around for a lot longer than that.

Taken from Pop Idol Website